New York Dil Okulları
New York Dil Okulları Hakkında Genel Bilgi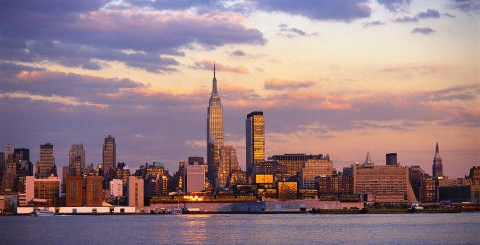 New York Amerika Birleşik Devletleri'nin en kalabalık şehri ve dünyanın en kalabalık metropolitan alanlarından New York metropolitan bölgesinin merkezidir. Şehir, dünyanın en büyük doğal limanlarından birinin üstüne kurulmuştur. İngilizcede New York City veya The City Of New York olarak da anılmaktadır. Önemli bir uluslararası diplomasi merkezi olan kent, Birleşmiş milletler genel merkezinede ev sahipliği yapmaktadır ve dünyanın kültür başkenti olarak tanımlanmaktadır.

Nüfusu 20 milyona yakın olan New York, tam anlamıyla bir göçmen kentidir. Kentte yaklaşık 170 ayrı dil konuşulmaktadır ve her üç kişiden biri ABD dışında bir ülke doğumludur. İngilizce çeşitli aksanlarla konuşulmakta olup İngilizcenin yanı sıra İspanyolca da İngilizce kadar yoğun konuşulmaktadır.

New York kenti 1615 yılında Hollandalılar tarafından New Amsterdam adı altında kuruldu. Kent 1664 yılında Birleşik Krallığa geçti ve New York adını aldı. 1778 yılında kent 2 yıl süreyle yeni kurulan Amerika Birleşik Devletleri'nin başkenti oldu. Başkent Washington'a taşındıktan sonra da kentin önemi büyümeye devam etti. Şehir 19. yüzyılda göç ve açılım hareketi ile dönüşüm geçirdi. New York şehri 20. yüzyılın ilk yarısında dünyanın ticaret, sanayi ve iletişim merkezi haline geldi. New York şehri 1920'lerde Londra'yı geride bırakarak en kalabalık şehir konumuna geldi ve Metropolitan Bölgesi 1930'ların başında nüfusu 10 milyon rakamını aşarak insanlık tarihindeki ilk mega şehir oldu.

NYC; Manhattan, Brooklyn, Queens, Bronx ve Staten Island olmak üzere beş bölgeden oluşmaktadır.

Finans dünyasinin kalbinin attığı Wall Street caddesi, New York'un Manhattan bölümünde yer almaktadır. Kenti yılda yaklaşık 40 milyon turist ziyaret eder. Genellikle Empire State Building, Times Square, Brooklyn Köprüsü, Broadway, Metropolitan Museum of Art, MoMa, Bronx Hayvanat Bahçesi ve Madison Avenue'da bulunan alışveriş merkezleri şehrin en çok ziyaret edilen yerleridir. İnformal tarzda düzenlenen Central Park, Amerika şehirleri arasında peyzaj mimarlığı ile yapılan ilk park olup ABD'nin en çok ziyaret edilen parkıdır. John F. Kennedy Uluslararası Havaalanı dünyanın en çok yolcu trafiği taşıyan havaalanlarından biridir. 24 saat açık olan metrosu ve yoğun trafiğiyle Hiç Uyumayan Şehir adını almıştır.

New York'ta yazlar sıcak, kışlar soğuk, ilkbahar ılık ve sonbahar serin olmak üzere 4 mevsim belirgin olarak yaşanmaktadır. Kış aylarında ortalama hava sıcaklığı -10 C, yaz aylarında ise 30 C civarlarındadır.
New York Dil Okulları